I recently had the opportunity to participate in a business visioning exercise for Business Analyst Mentor called 'History of the Future'. It is typically used for issues identification, first-cut development of solutions, and it also helps understand and align business vision amongst multiple stakeholders. The exercise was organized and facilitated by BA Mentor Joan Davis who has extensive experience in this area.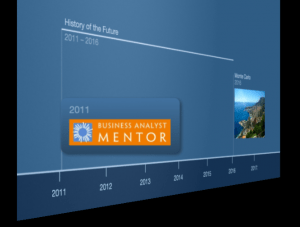 In this post I'll share my perspective on the experience, and how I foresee applying what I learnt from it.
My role in the game was to represent a long term customer. Alex Papworth – the BA Mentor founder – represented himself in that capacity, and there were other 'audience' members listening in. The game involved us being interviewed by Joan (the facilitator) on a conference call, answering a series of questions about how Business Analyst Mentor has developed and grown. The essence of the game is that participants pretend they are 5 years in the future and talk about the period between the present day and that point in time, all in the past tense.
We were given the questions in advance and had a quick briefing discussion a couple of days beforehand to ensure we understood the process and objectives.
When the game started it took some moments to initially get into the flow, but once the headspace is established it is quite inspiring and even a bit surreal. There is a lot of freedom in being able to imagine a fictional past, rather trying to articulate an ideal future. A particular example is being able to describe how a challenge was addressed and overcome, turning a potential negative into a positive. It inspires the 'storyteller' voice in us which can be very engaging and entertaining.
The outcome of the exercise for BA Mentor was that we covered some really interesting ground and identified some recurring themes around the importance of the personal nature of the offering – in contrast to say what a 'one size fits all' professional development course would provide. I was also amazed by the alignment in some of the themes and stories I had imagined and what Alex actually said. I think this demonstrates that the vision for BA Mentor has already been quite clearly communicated and fostered. The questions from the audience prompted Alex to think and talk about aspects of the business he hadn't really considered before.
There are a few past situations I've been in where I would have loved to be able to pull this game out of my toolbox, and here are a few future examples of where I think I'll use it:
1 – A passion of mine is working with startups. It can be challenging, however, to get strong alignment amongst the founders. This exercise will be perfect to explore all aspects of not only the product or value proposition, but also the realities of the business and the lifestyles that the founders are aspiring to lead. If one founder is imagining getting the business to a certain size and then sipping piña coladas (no salt, of course) on a beach in five years, while another is expecting to be still working long days and acquiring their competitors to fuel massive ongoing growth, then best to understand that sooner than later.
2 – In a more typical BA scenario, this exercise will be very handy for understanding a proposed new feature better. It will help stakeholders articulate the real value which they expect users to get out of the feature in question, which is often less tangible and related to non-functional requirements. I can see this being useful to ensure that everyone has a common and realistic grasp on expectations.
3 – Although it would take some courage to try it, I think this exercise could be useful at the beginning of a big project. Although I enjoy that blissful state at the beginning of a project where all indicators on the status report are still 'green' and there have not yet been any blowups or misunderstandings, I often think that there would be benefit in discussing people's previous experiences in projects, and what success really means to them. I am currently working in a hybrid BA/PM role, and my increased exposure to the financial side of projects has given me greater insight into the kinds of things which are important to project sponsor. This type of game would help a team discuss and workshop what is really important to tem, and how a successful outcome can be achieved.
Here are a few links to where you can find more information about this game and others like it:
Website: http://tastycupcakes.org/
Website: http://innovationgames.com/remember-the-future/
Gamestorming book: http://bit.ly/bcPrn7