Here are some thoughts on Certifications from BA's who have made the Certification journey:
Adrian Reed compares the CCBA/CBAP with the ISEB BA Diploma
 Brett Arthur shares Part 1 of his CBAP journey – there are two more posts to complete the story!

And here are the results of our questionnaire answered by individuals responsible for recruiting BA's: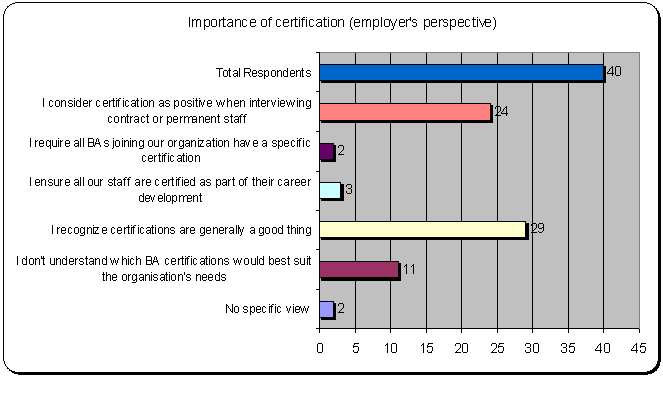 Here are some of the conclusions from interviewing some of these individuals.
Unsurprisingly, there isn't a unified point of view on Certifications.
They aren't sufficient to get you a job – demonstrating experience and knowledge is always going to be higher on the priority list along with fit with the organisation and team.
However…
Some companies do think that senior BA's should demonstrate they take their career seriously through having acquired a certification or qualification.
There is no strong opinion on which certification or qualification is best although the ISEB BA Diploma is, inevitably, given its age better known and understood.
If you  are a BA working in the UK and want to hear more advice on Certifications and have your own questions answered by the experts, sign up to the IIBA UK webinar here.