I attended the IIBA meeting on 28th January at Balls Brothers near Fenchurch Street station. I assume this wasn't sponsored by a corporate which is unfortunate as the money must come out of membership funds.
As someone who has become a member recently, such things matter! There was a good turnout of maybe 80 or 90 people but, as there was a £10 charge this time for non members, I assume it put some people off. I think it's a good turnout considering and must say something for the appeal of the event.
This time, there was only one speaker, Keith Harrison-Broninski, an update from the IIBA chairman, Martyn Wilson, and networking and nibbles afterwards.
 

Keith Harrison-Broninski's presentation

Keith's presentation fit the recent mould of providing challenging content which is outside of many BA's immediate experience. I enjoy this as it is more stimulating than talks more directly related to my everyday BA experience.
Keith started by providing a personal example of very poor customer experience when attempting to buy a season ticket through thetrainline.com. He was able to apply for a season ticket online but it was constantly reported as 'processing' without being dispatched. As the date for his new season ticket approached he contacted both Southwest trains and thetrainline.com both of whom pushed responsibility for this back to the other company. Needless to say, he bought his own season ticket and a second one arrived in the post a week later.
This example serves to demonstrate an example of poor customer service which is typical in today's world and symptomatic (Keith maintains) of our failure to tackle problems of this nature in an effective way.
Keith maintains that the tools we use (BA's) treat people as automata or beings with a few well defined states which change state under a few well defined circumstances. For example, business processes force this model of the world but it fails to reflect the complexity of how people behave in real life.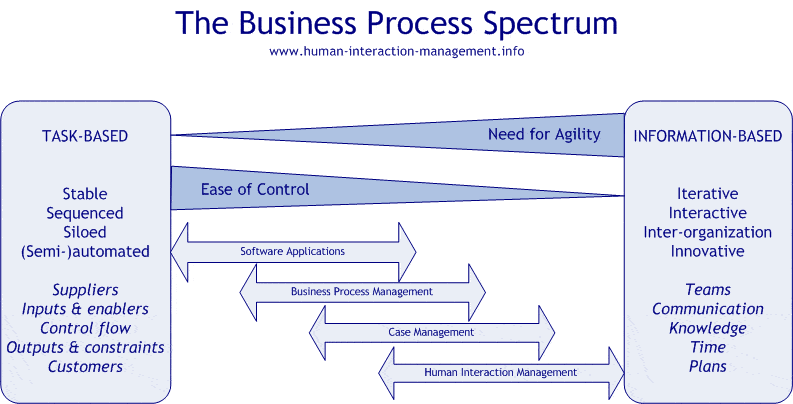 He showed a spectrum of problem domains which went from task-based to information-based. He states that task-based problems have predictable well defined behavior and are amenable to the 'automata' approach.
Information-based systems on the other hand, are not entirely predictable, and any system involving customer service systems are good examples. As we all know, people don't like being put into boxes and forced to follow predefined scripts.
The model he proposed for information-based systems focused on the following elements: teams, interaction, knowledge, time and planning.
I found his presentation engaging and the proposal certainly struck a chord. There are clearly problems with the way we approach certain classes of problems today and there are many example of very poor systems. His model shows great promise but, as ever, with new ideas, the challenge is how to introduce a new approach to organizations with embedded processes and ideas.
He has a great deal of support with quotes taken from Kevin's website including the Chair of the Workflow Management Coalition:
The next logical step in process-based technology
You can read more in his book at Amazon
 
You can also download his presentation material on www.human-interaction-management.com
 
IIBA Chairman's Update

Martin gave an IIBA update mentioning four seats on the board becoming available and the upcoming conference in October amongst other things. There are also plans to introduce corporate sponsorship at various levels with some goals for attracting a certain number of sponsors each year.
Also, there will be monthly meetings and they are keen to start establishing regional chapters to support BA's outside of London.  It appears that Edinburgh and somewhere on the M4 corridor are the strongest candidates so far.
I spoke to several people afterwards including John Cheeseman who James Archer introduced me to discuss IIBA's aspirations to create a knowledge hub. James has asked me if it would be possible to post some of my articles on their site. I have also agreed to spend time investigating the alternatives for a platform to allow members to publish articles on the site.
Another interesting meeting and some great events to look forward to this year.