At the IIBA UK conference this year there were some important messages from two of the key note speakers which helped me reflect on my work as a business analyst.
Most people crave certainty (and don't like risk)
Caspar Berry, the professional poker player, talked about what he learnt about uncertainty from his career as a poker player. In an engaging presentation, he explained the basic human desire desire to reduce or remove uncertainty.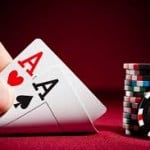 This is something I recognize very well. The average requirements gathering workshop is a great case in point – I will spend a long time trying to design the workshop to achieve my end objective.
The agenda will be carefully structured and I will walk through the activities with key participants so they can buy in and adjust the agenda to best achieve our aims. But you never know what will happen on the day – someone may come up with an unexpected angle which might mean your agenda won't work as planned. This can be frustrating but also the risk of this happening made me feel anxious so I would work even harder to plan the workshop to 'design out' or predict any eventualities.
Uncertainty is a fact of life – get used to it and work out how to plan for it
Caspar's lesson from playing poker was that uncertainty is a fact of life so you need strategies that manage the risk. Without going into all the detail, the strategies that poker players employ are all about playing the long game and calculating probabilities on any particular hand to decide when to fold or when to pursue a possible winning hand.
What does this mean for business analysts?
So there is an important general lesson that a more successful strategy would be to anticipate and manage uncertainty rather than trying to remove uncertainty.
But, in my view, one of the main reasons for uncertainty is other people or our stakeholders. We are completely dependent on them for our success but they cannot be 'controlled' or 'managed'.
So, what strategies should we employ to anticipate and manage the uncertainty that is introduced by our stakeholders?
How 'improv' can help us work better with our stakeholders
So in the other key note, I mentioned, Neil Mullarkey, spoke about the 'improv' technique in a very entertaining 45 minutes. He explained the basics of this dramatic technique where two or more people have a conversation that they make up as they go in a completely unscripted way.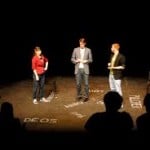 At one point he had 400 people doing their own little 'improv' in groups of three which was great fun and a lot more entertaining than the normal day job!
What has
this

got to do with business analysis I hear you ask!

Ok, so please be patient. The essence of improv is a method where you can create a dialogue with one or more other people which you work out as you go.

These are some of the key elements that I took from his talk:
each participant offers something to another participant (i.e. they deliver a 'line')
improv says you recognize and accept the offer
the next particpant then offers something else which builds on what was originally stated
So let's bring this to life using a conversation I had recently:
Alex: Having agreed the high level requirements, I'm going to run a series of workshops that will start to identify the detailed business requirements. What do you think?
Mark (the architect): That's good. But I need to determine the roles and responsbilities of the different teams as part of my work. And I would be speaking to the same people.
Fred (the business sponsor): I think it would be difficult to identify the business requirements without agreeing who is doing what…
Alex: So perhaps we could build this into the workshops. Also, I'd like to draft the business process to help us identify these requirements.
Mark (the architect): Yes and that would help me define the governance which is also very important.
Fred (the business sponsor): This is excellent. This will really help the other business stakeholders make a contribution.
For me, the most important lessons for managing that uncertainty with stakeholders are:
build a good working relationship and prioritise this over everything else
be open-minded and adaptable
other stakeholders have a contribution and knowledge which can be invauable
accept others' contribution as a gift, try to incorprate it into your approach so you both 'win'
communicate your approach and your reasons early
validate your approach and your progess and results often
Please share your thoughts and experiences of working with stakeholders by adding your comments below.