UK BA Mentor.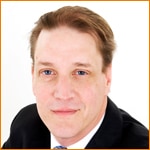 Nick has been working in IT for 26 years with 21 of those years with his own company. He has a wealth of experience gained mainly in investment banking and the public sector. He has experience in many techniques which include data/class modeling, activity modeling, soft systems analysis, surveys, user interface design, workshop facilitation and user acceptance testing to name but a few. He has mentored individuals informally throughout his career and, more recently, has tutored adults in a local college.
Nick has always gained great satisfaction from helping others develop and takes particular pleasure from helping his children in their journey through education.
He has spoken at several IIBA events including the Business Analyst Conference Europe 2011 (his talk is described here) and has been published in the Cutter IT Journal.
Nick has an all-round understanding of BA techniques so is able to help many BA's looking to develop. He has a particular interest in the relatively new field of user experience.
Nick lives and works in London.
As Nick says 'When I first worked as a BA, there were very few resources available and I would like to make things easier for BAs now'.