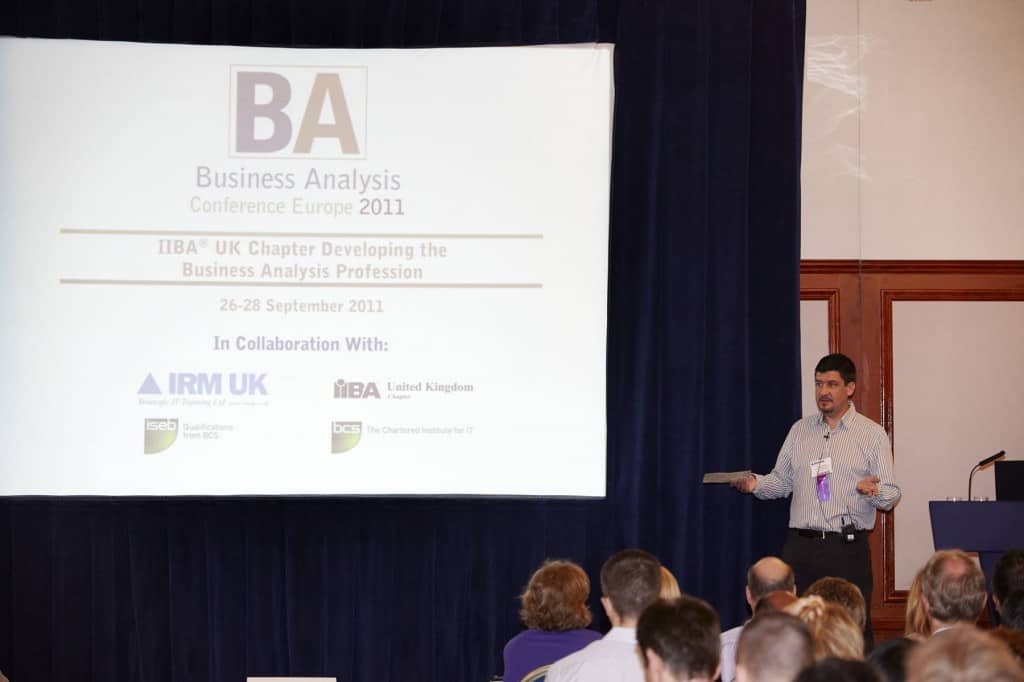 It's four days now since the third IIBA UK Conference finished and I'm still buzzing with the energy created by that event. Over 270 BA's in one Conference makes it the most successful yet (not bad considering the state of the economy).
I'm going to share my general impressions in the following post (if you attended, I'd be interested to hear what you have to say – please comment at the end of this post).
For me personally, I'm pleased that the keynotes were well received, I opened and closed the Conference and also delivered my two presentations without any major hiccups – getting the fundamentals right is pretty important! I also met many people and got to hear people's views on the IIBA, mentoring and got views on the BA Mentor ideas and vision in particular.
However, what really amazed me was how the energy level started well on the Monday but just seemed to increase all the way through to the Wednesday – I didn't really perceive people flagging at any stage.
I shared a couple of flyers targetted at potential mentors and mentees at the event which I'll share below.
Click here for the flyer for mentees.
Click here for the flyer for mentors.
Here are a few personal observations and recollections in no particular order:
I had the pleasure of meeting Ivar Jacobson – he's played such an important role in the development of the the software development industry throughout my professional life that it was an honour to meet him in the flesh
Andy Wilkins talked in a key note about the importance of understanding your personal style and how you approach change, process information and make decisions through the VIEW method. I discovered fascinating things about myself and BA's in general. for example, I like to work through problems in isolation to a large degree before sharing. On the other hand, the BA sitting two seats away from me liked to talk his way through problems in a group (take away: BA's come in many different shapes and sizes)
The bigger take away was that you need to recognize and celebrate the differences. People with wildly varying styles tend to rub each other the wrong way. However, teams with a mixture of styles generate the best results. Perhaps, that friction is needed to shake people up a little!
Met some guys from a company called Northern Trust who were investing heavily in their BA function and had sent 3 BA's all the way from India! That's a testament to both the quality of the Conference and that company's recognition of the importance of BA's to their success.
I met a potential mentee from Manchester (@JamieClouting on twitter) who was looking for a mentor from Manchester. I hooked him up with @DavidAvisBA (fellow board member on IIBA) as some of David's colleagues are looking to gain mentoring experience.
I spoke to some individuals who worked in companies looking to build/grow their BA practice and were interested in how BA Mentor could help them on that journey
I spoke to so many different nationalities with Estonia standing out for some reason!
The value of introducing 'design thinking' into your organisation is becoming more and more compelling. I produced my first 'picture' last week attempting to communicate relatively complex concepts in one simple diagram.
Equally, the value (probably necessity for survival) of employing 'creative' approaches is irresistible. Also, everyone is creative and the addition of a simple process (Creative Problem Solving) is all that is stopping the benefits that can be delivered by tapping into that creative potential.
I'm sorry this has been a bit of a brain dump. I hope it's helped you get some impression of the event and how you can benefit.
I will follow this up with one or two more posts focussed on sessions that I found particularly interesting. One of those was Creative Problem Solving (run by James Archer and Andy Wilkins) –  I will share with you how it helped with my eight year old daughter's literacy homework this very afternoon!