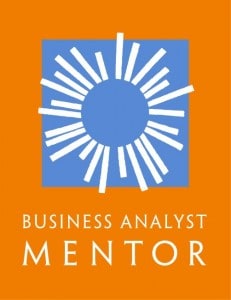 You will all have noticed the new logo (or mark as I'm told it should be called!). I'm very pleased how it has turned out and many thanks to Brigitte Herrod who designed it. Brigitte is a friend, fellow parent at our local school and, obviously, very talented designer.
It makes the site look more professional which should be reflected in some of the new developments I'll be introducing over the next few months.
I am hoping to make an announcement in the next week or so which will really reflect my commitment to BusinessAnalystMentor.
I'll be using the logo everywhere (as you might imagine!)  which will include my twitter account, my feed for those who subscribe and all printed material going forward.
Thanks for your support so far and, as ever, I would really appreciate any suggestions on what you woud like to see on the website.
Please contact me if you would be interested in Brigitte doing any work for you.